Click on the county or coastal water zone of interest to get the latest forecast from the National Weather Service.
Caribbean Sea
GRLevel3 radar images are not available at this time.
Local Radar
Weather Summary for Puerto Rico

000
AWCA82 TJSJ 172046
RWSPR

Weather Summary for Puerto Rico
National Weather Service San Juan PR
446 PM AST Tue Jan 17 2017

Mostly sunny to partly cloudy skies prevailed across most of the
archipelago of Puerto Rico Tuesday afternoon. There were a few
isolated showers across the north coast and southwest portion of
the big island, but these were mostly light and brief in nature.
Coastal afternoon temperatures ranged from the lower to mid 80s.
However, temperatures across the interior highlands and valleys
were much cooler ranging from the mid 60s to mid 70s. Surface
winds were mainly from the Northeast at 15 to 20 mph, except
significantly lighter along the south coast of the big island.

A band of showers currently north of the islands is expected to
drift south and arrive at the local area this evening. This will
result in cloudy conditions with scattered showers mostly across
the eastern portions of Puerto Rico, Vieques and Culebra. Weather
conditions should be improving by Wednesday.

A strong surface high pressure ridge over the southeastern United
States will drift slowly eastward to the northern Bahamas through
Friday. This will maintain a moderate northeast to east wind flow across
the local islands at least through Wednesday. This flow will
advect patches of low level clouds and showers through the
northeast Caribbean Tonight. These showers will move quite rapidly
across the area, therefore rainfall accumulations should remain
minimal. Somewhat drier conditions can be expected from Wednesday
afternoon through the early part of the upcoming weekend.

Although surface winds have begun to diminish and seas are
gradually subsiding, Hazardous marine conditions are still
expected through at least Wednesday afternoon. Seas between 5 and
7 feet with occasional seas up to 9 feet are expected mainly over the
Atlantic waters and local passages. Small craft advisories remain
in effect for most of the offshore Atlantic waters, Mona Passage
and the Anegada Passage through Tonight.

$$

This product is issued around 5 AM and 5 PM each day and weather
conditions may change between issuances. Please verify the status
of any Watches...Warnings or Advisories mentioned in this product.
Satellite Imagery
Select a map type to view:

Atlantic Wide View (Click Image for Loop)
Global Tropics Hazards and Benefits Outlook (Click image for more details)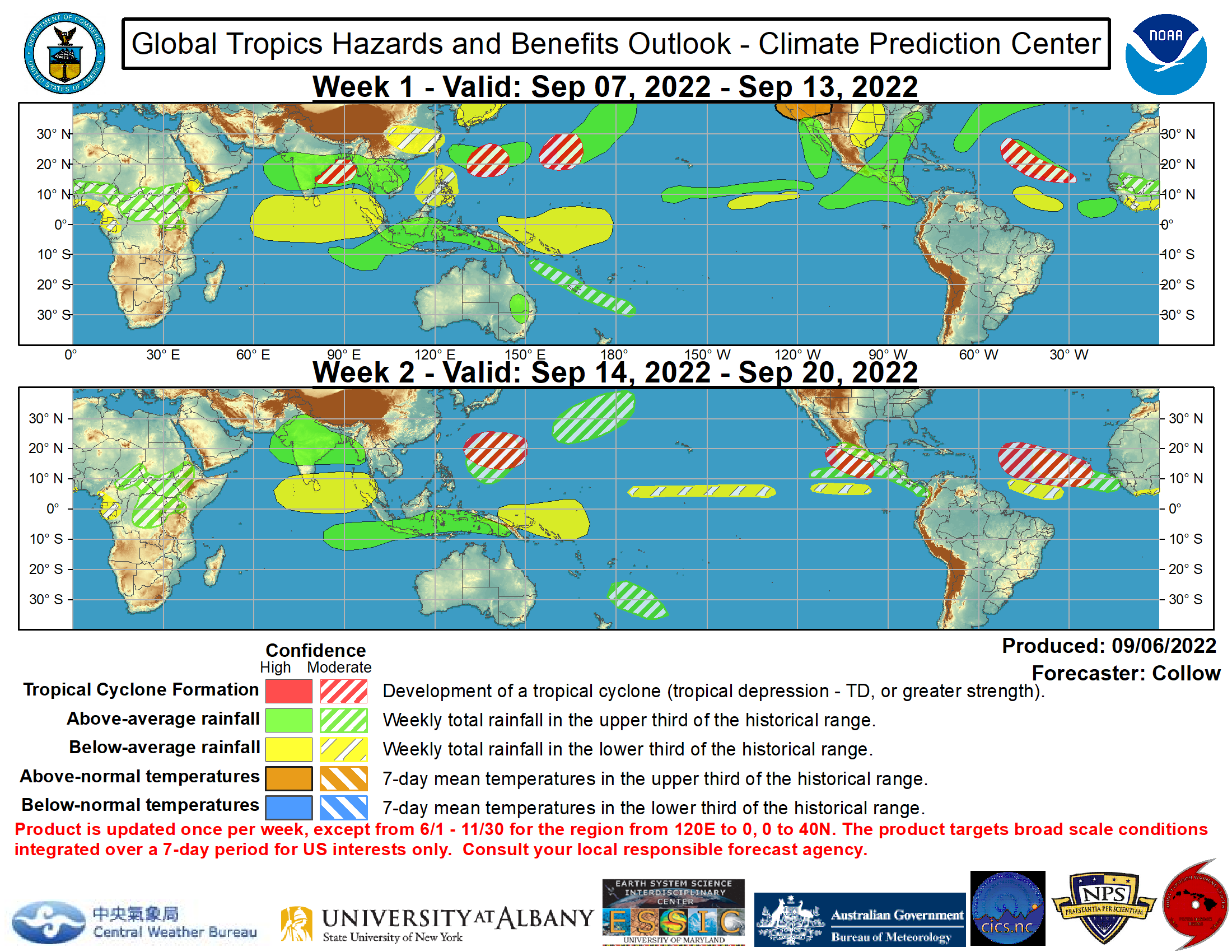 Saharan Air Layer
Sea Surface Temperatures Anomalies